Travelling abroad if you have cancer comes with a whole lot of planning! We're here to help you discover what you need to consider before you go.
When NOT to travel if you have cancer
Travelling, and air travel in particular, can be an issue if you have recently had certain treatments or procedures. The advice is to ALWAYS ask for your GP or consultant's opinion before planning a trip – here are some reasons why your plans could be affected if you have cancer:
Weak immune system – Some destinations may pose a greater risk to your health.
Low platelets or red blood cells – Some cancer treatments can affect platelet or blood cell count making you at higher risk of bleeding. Stem cell or bone marrow transplants are examples. If your count is very low air travel is not recommended.
Recent surgery – Some procedures trap air within the body that can take a while to dissipate. If you fly too soon after certain types of surgery, that air will expand, putting your health at risk.
Risk of a blood clot – Being seated for an extended amount of time can increase the risk of a clot.
Things you may need to consider when booking your holiday
Whether you tire easily – If fatigue is likely to strike you may want to focus on destinations that have manageable terrain and easy access to facilities where you can rest.
Will you need a wheelchair or wheelchair access? Many hotels, hostels and even AirBnBs offer wheelchairs and wheelchair access, but did you know there are also loads of travel companies that specialise in accessible holidays all over the world.
Whether you can take your medication abroad – Some countries have very strict policies on what can be taken into the country, you will need to make sure that what you need is on the allowed list – more info on taking medicines abroad below!
Do any of your medications cause photosensitivity? A wide range of medications make the skin more sensitive to sunlight – find out if you need extra protection form the sun or if you should avoid high UV areas completely.
Health and Travel Insurance if you have cancer
People who have, or have had cancer can find it tricky to get travel insurance, but travel insurance for pre-existing conditions is something we specialise in, including travel insurance for cancer patients. Our aim is to be able to provide the right travel insurance for your needs whether you are on preventative maintenance medication following Chemotherapy, Radiotherapy or Surgery; are currently receiving treatment, or are having check-ups on a 'watch & wait' basis.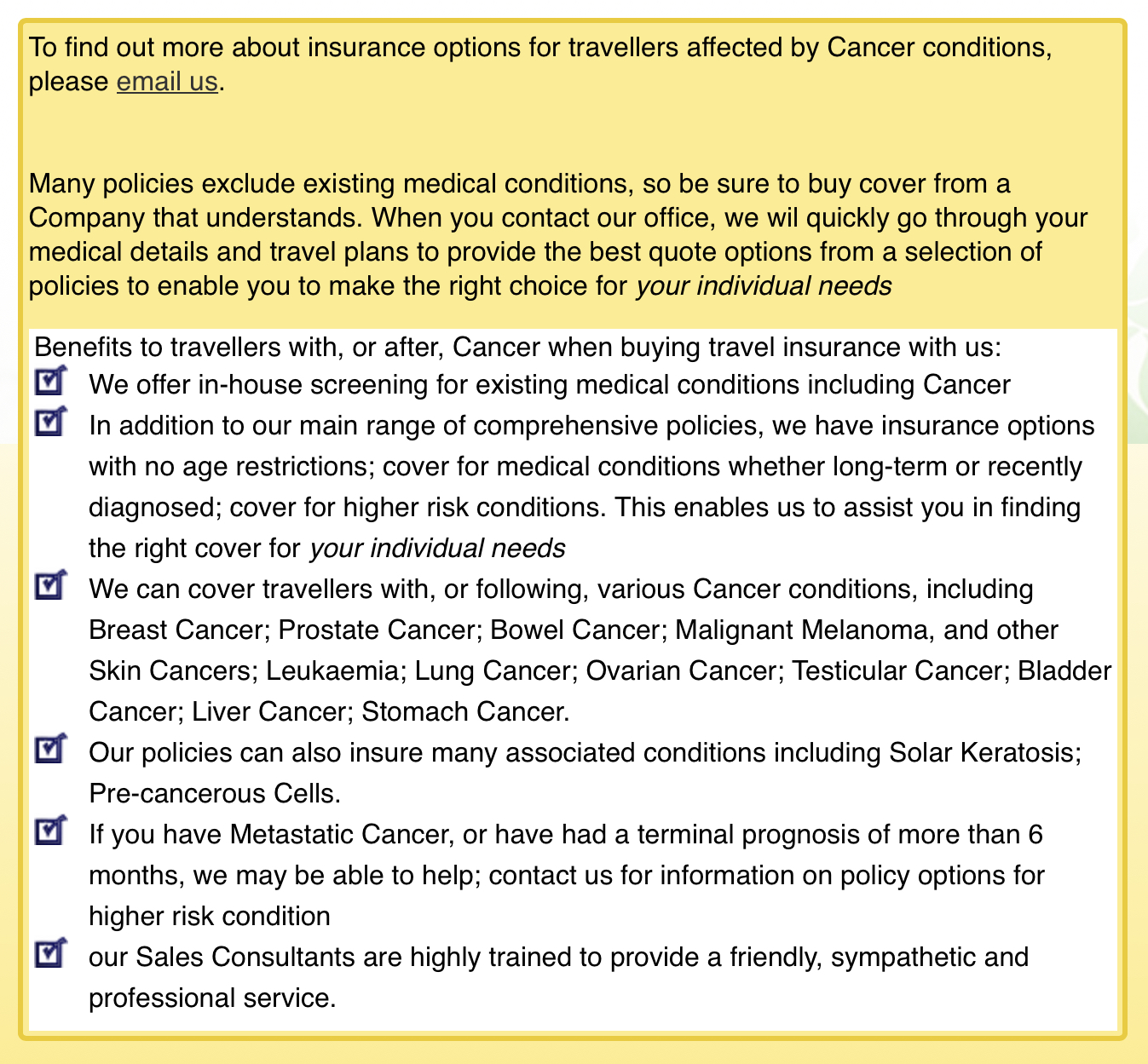 It is also recommended that you get a Global Health Insurance Card (GHIC), if your EHIC has expired. The GHIC entitles the holder to the same free, or reduced cost, state-provided healthcare as citizens of that country, where medically necessary. Be aware that there may be additional charges that we aren't used to seeing in the UK, including charges for equipment, supplies, food, medicines. It is not a replacement for Travel Insurance, it complements it.
Airport and airline assistance
Airlines have a medical officer who can help you access anything you need to make your journey easier. Whether this is early boarding, access to a wheelchair or oxygen for the journey. Do be aware that these things need to be arranged well in advance and may also require a "fit to fly" letter form your GP or consultant.
Taking medicines abroad
Firstly, you need to make sure you have enough medication for your stay, secondly you need to make sure that you aren't in danger of taking a controlled drug into another country.
Just because you have been prescribed a drug here in the UK does not mean that it is a legal prescription drug in another country, and even if it is, the amount you can take in might be controlled. The medicines most likely to be restricted are ones that can cause addiction such as opiates or steroids, or medicines that need to be injected.
Here is a vital check list:
Check with your destinations country's embassy or High Commission for information about controlled medications.
Also ask your GP to tell you if any of your medications are restricted in your chosen destination.
Plan to take enough medication to last your entire trip, plus a few days in case of delays.
Get a GP letter to explain why you are taking medicines, which medicines you are taking and what doses are required.
Take a copy of your prescriptions – This will help with issues at border control or security as well as if you lose your medication abroad and need to get more while you are away.
For more information about travel insurance if you have cancer, visit our dedicated page, or contact one of our team on 01892 833338. Also, please visit Cancer Research UK and Macmillan Cancer Support who have lots of valuable information about travelling overseas if you have cancer.