Investment thesis
For long-term expansion in areas like data centers, building automation, smart grid, and electrification of fossil processes, I believe Schneider Electric S.E. (OTCPK:SBGSF, OTCPK:SBGSY) is a solid global franchise. It has excellent market access and a sizable share of the primary profit pool in low-voltage products, providing strong exposure to all critical aspects of the value chain. Though it does not enjoy the same level of automation thanks to its smaller size, it does reap the benefits of extensive use of software.
However, after a 50% rally from the $110 level, Schneider Electric's valuation has risen from ~15x to ~20x, which is a bit steep. Even if the new CEO is competent, a company's stock price may drop temporarily as investors wait for more information about the company's future under the leadership of the new CEO. Due to this, I am maintaining a neutral stance and plan to eventually invest in the stock at a lower price.
Earnings results
The Schneider Electric S.E. 2H22 sales results were 3% higher than expected thanks to the exceptionally high organic revenue growth in the 4Q22 of 16% compared to the consensus estimate of 8.4%. Both Energy Management and Industrial Automation outperformed expectations, with Energy Management outperforming by 4% and Industrial Automation in-line, respectively. Adjusted EBITA for 2H22 was 2% higher than expected, while EBIT was in line with expectations. Net income for 2H22 was up 17.9% year-on-year. As a result of improved working capital performance in the 2H22, 2022 free cash flow ("FCF") came in at €3.3 billion higher than the consensus estimate of €2.9 billion. 2H22 FCF of €2.89 billion was up €1.2 billion year over year and was €0.4 billion above expectations.
The strong 2H22 FCF is largely due to improved P&L performance and fewer supply chain problems, and working capital becoming positive. Overall, the year ended on a high note for SBGSF. The departure of the CEO, however, stands out as the most significant development. Management has projected 9%-11% organic growth and 17.4%-17.7% adjusted margins for FY23.
Change in CEO
Jean-Pascal Tricoire, who has been CEO for 17 years, is stepping down but will remain in the company as Chairman. While the stock price didn't take a hit, I'm concerned about SBGSF's future direction without the previous CEO, who had been very effective. The new CEO has some big shoes to fill. If he fail to do so, investors' expectations for the stock could drop precipitously. By the end of the year, Mr. Herweck will take over as CEO. Many institutional investors will likely pause to consider their options despite the fact that this shift has been widely anticipated.
Valuation
Since 2018, SBGSF has done a pretty good job on growing organically, and I expect this to continue, with margin improving modestly over the coming years. I don't think there is any variant view from the market in terms of financial performance. My worry here is valuation compression. SBGSF currently trades at 20x forward earnings after a strong rally over the past few months. This premium to historical average is not well supported, in my opinion, given it has pace of earnings growth is the same as history (from 2017 to 2019). During that period, SBGSF traded at around 17x. Moreover, given the higher rates environment, SBGSF should trade at lower multiple.
If we take consensus estimates and a valuation compression to 17x, SBGSF is fairly valued at the current price.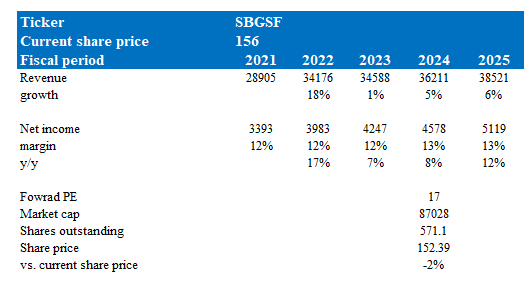 Guidance
In FY23, SBGSF plans to increase its adjusted EBITA by 12% to 16% from a combination of 9%-11% organic growth and modest margin improvement. As for long-term goal, the goals for 2022-2024 and beyond have not changed. Also, the projected reorganization cost for 2023 is expected to reach the €100 million mark.
Overall, I am positive on the growth moving forward. Despite the anticipated decrease in consumer-linked markets, the overall market outlook remains positive due to various factors such as government spending, the backlog being at a record-high level, the gradual relief of supply chain constraints that will boost industrial production, and the gradual reduction of inflationary pressures.
Conclusion
In conclusion, Schneider Electric S.E. is a solid global franchise with strong exposure to critical aspects of the value chain, making it a promising long-term investment for exposure in areas like data centers, building automation, smart grid, and electrification of fossil processes. However, the current valuation of Schneider Electric S.E. at 20x forward earnings after a strong rally over the past few months is a bit steep, and the change in CEO could create uncertainty about the company's future direction.
Editor's Note: This article discusses one or more securities that do not trade on a major U.S. exchange. Please be aware of the risks associated with these stocks.