Introduction
In January, I wrote a bullish article on SA about Peruvian cement producer named Cementos Pacasmayo (NYSE:NYSE:CPAC) in which I said that I expected that sales in 2023 would be strong and that there could be another dividend of above $0.50 per ADR around the end of the year.
In my view, the company posted good Q4 2022 financial results, but it seems that the first few months of 2023 could be challenging for the local cement sector as national cement production is back to pre-pandemic levels following several weeks of violent strikes in the first weeks of the year. That being said, I remain bullish on the stock as cement production in Peru is likely to receive a strong boost in the second half of the year as the government recently announced the launch of public-private projects worth almost $9 billion. Let's review.
Overview of the recent developments
In case you're not familiar with Cementos Pacasmayo or my earlier coverage, here's a brief description of the business. The company has a total of three cement production plants in the northern part of Peru that have a combined cement production capacity of 4.9 million MT/year as well as a combined clinker capacity of 2.8 million MT/year. Cementos Pacasmayo is currently building a new kiln at its Pacasmayo plant which will boost its clinker capacity by 0.58 million MT/year. The kiln will cost about $73 million and should be up and running in the third quarter of 2023. The reason that the company decided to boost its clinker capacity is that cement demand in the country rebounded significantly following the end of COVID-19 lockdowns and this forced it to turn to clinker imports as its own clinker capacity enables it to produce about 2.8 million MT/year of cement. With the new kiln, Cementos Pacasmayo will be able to produce some 3.7 million MT/year of cement using its own clinker.
There are three large cement producers in Peru – Cementos Pacasmayo in the Northern Region, UNACEM in the Central Region, and Yura in the Southern Region. Each of these companies has almost complete control over their respective regions and high transportation costs make it economically unfeasible to compete in another region. This has the benefit of protecting the three companies from cement imports, but exports are also challenging.
Usually around October or November, Cementos Pacasmayo distributes an extraordinary dividend whose size over the past years has been close to the annual earnings. Since 2017, the company has distributed dividends of $3.49 per ADR.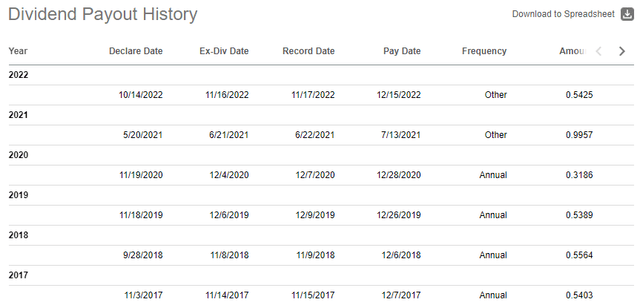 Turning our attention to the Q4 2022 financial results, I think it was a strong quarter for the company in light of challenging macroeconomic conditions and nationwide protests that started in December. Despite a 7.7% decrease in cement, concrete, and precast shipments, sales rose by 1.7% while the gross profit increased by 1.1% as the pricing power of Cementos Pacasmayo allowed it to pass on higher raw materials and energy costs to its customers. However, EBITDA slumped by 14.5% due to non-recurrent expenses.
You see, there was a 30.1% increase in personnel expenses as a result of a one-time union bonus which is usually negotiated every three years and has a larger impact during the first year. In addition, sales expenses soared by 55.7% year on year, mainly due to the lack of advertising and promotion savings.
CAPEX for 2022 stood at 190.1 million soles ($49.8 million) and the bulk of it went into the new kiln at Pacasmayo. It seems that about $34 million will need to be invested into this project in 2023.
Turning our attention to the balance sheet, inventories at the end of December were significantly higher compared to 2021 and this is likely due to higher unit costs. This pushed up the total outstanding debt to 1.59 billion soles ($417.1 million). Yet, the adjusted debt was 1.51 billion soles ($395.1 million) as Cementos Pacasmayo had cross-currency swap hedging agreements for $132 million with the aim of mitigating foreign exchange risks related to its 10-year international bond that was repaid in February 2023. Therefore, the net debt stood at 1.42 billion soles ($370.5 million) as of December which translates into a net adjusted debt/EBITDA ratio of 2.9x. In my view, the level isn't high and Cementos Pacasmayo is likely to continue distributing all of its income as dividends over the coming years.
Yet, it seems I overestimated the amount of the 2023 dividend back in January as nationwide protests have affected cement production and sales in Peru significantly over the first two months of 2023. According to data from Peru's National Institute of Statistics and Information, local cement consumption declined by 15.1% in January and 15.6% in February.
The data from the Association of Cement Producers of Peru looks even worse as it shows that cement deliveries slumped by 17.3% in February to about 883,000 metric tons. They are now slightly above pre-pandemic levels.
It seems that the Q1 2023 financial results of Cementos Pacasmayo are likely to be underwhelming but the silver lining is that the gross margin could grow to about 35% as the company won't need clinker imports due to the lower production volumes. Considering nationwide protests have decreased over the past few weeks, I expect national cement production to recover a bit in March. Looking further ahead, it seems that the second half of the year could see a recovery of cement demand to 2022 levels as the government recently announced the launch of over 30 public-private projects for close to $9 billion in a bid to boost economic growth. These projects are focused on road infrastructure, energy, and sanitation which means they will need significant amounts of cement. Up to 16 projects for $3 billion will be awarded in 2023.
Investor takeaway
In my view, Cementos Pacasmayo booked decent financial results for Q4 2022, and its balance sheet looks strong. However, nationwide protests have led to weak cement demand in the country over the first two months of 2023 and I think that Q1 financial results could be underwhelming. This has the potential to lead to a significant cut in the annual dividend. I expect a recovery in production and sales over the coming months as protests have decreased and the government is launching various public-private projects but I'm cutting my rating on the stock to buy from strong buy. It's likely that the financial results of Cementos Pacasmayo in 2023 will be weaker compared to the past two years.